Interior Design Business Bootcamp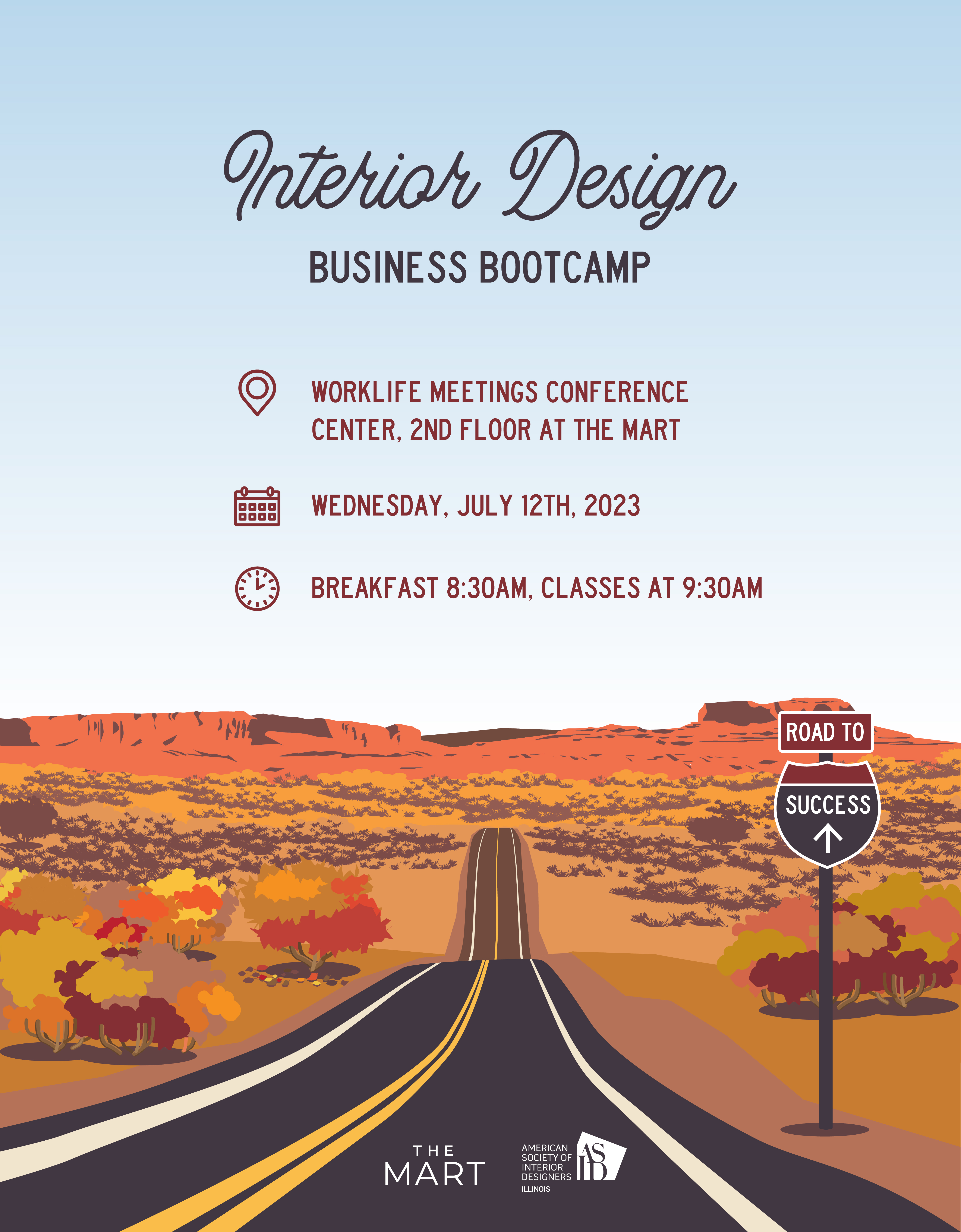 Embark on a transformative one-day bootcamp designed exclusively for interior designers seeking to elevate their business acumen and chart a successful course in the dynamic world of design. Join us for "ASID Business Bootcamp: The Designer's Roadmap" where we will take you on an inspiring road trip through key aspects of business education specifically tailored for interior designers. Whether you're an experienced professional, a budding entrepreneur, or an employee aiming to sharpen your skills, this event is your ultimate destination for growth and success.
Meet Your Navigators:
LuAnn Nigara, David Adler, John Cialone, Claudia Martin, Jessica Harling, Jay Goltz and Jesse Karich!
Join us for a full day event hosted at THE MART in Chicago. Breakfast and lunch is included!
"Your" Mission:
Choose your own path. At "The Designer's Roadmap", you have the freedom to select the perfect course that aligns with your specific business goals. Dive into our 1.0 course to lay a strong foundation for your business or opt for the 2.0 course to amplify your existing strategies and take your interior design venture to the next level. You can mix and match to unleash your creativity and create your own business road trip!
Session 1 (Choose One):
(1.0) - Rev Up Your Entrepreneurial Journey: Hitting the Pavement to Start Your Dream Business!
Speaker: David Adler, ASID Industry Partner
New company setup - how to and need to know's
Insurance options and protection needs
Must-haves in client contracts
(2.0) - Driving Your Profits: Navigating Your Roadmap to Financial Freedom
Speaker: Jesse Karich, Core Path Wealth Partners
Financial benchmarks to save for
Goal setting and managing cash flow
Must have financial partners in the business
Session 2 (Choose One):
(1.0) - Tools for a Project Management Expedition
Speaker: Claudia Martin, ASID
Must have documents and software for project management
Physical storage solutions to create order and minimize procurement errors
Expand into doing larger projects confidently
(2.0) - Finding Your Company's Signature Style & Navigating the Path to Brand Awareness
How to identify your target client
Elements of putting together a brand
Photography, videos, and graphics - what's most important to communicate your brand
Session 3 (Choose One):
(1.0) - Financial Fuel Up: Cruising the Business Highway with Finance Essentials
Types of accounts and setting them up
What is a P&L and Balance Sheet and why it's important
How to prepare a budget and software to track money
(2.0) - Cruising to Client Satisfaction: Building Processes for a Seamless & Profitable Client Journey
Speaker: Jessica Harling, ASID Industry Partner
Must have processes for scaling between business milestones
Time and profit loss gaps to avoid in creating a strong foundation to grow upon
Building into your process value added steps to become an unforgettable company to clients and employees
Session 4 (Choose One):
(1.0) - Driving Success: Connecting Creativity to Business for Results
Speaker: Jay Goltz, Jayson Homes
What are platforms, benefits, and target audiences that are must-haves for interior designers
Ways networking should support marketing
Budgeting for marketing
(2.0) - Cruising into Getting Luxury Clients
Speaker, John Cialone, FASID, Tom Stringer Design Partners
Discovering your value proposition and niching up
Negotiating techniques with luxury clients
Closing techniques when objections arise
Keynote Speaker: Design Industry Leader and Podcast Host LuAnn Niagara
We are thrilled to announce that the esteemed LuAnn Nigara will grace our stage as the keynote speaker at "The Designer's Roadmap" bootcamp event and work with you throughout the day to level up your businesses! LuAnn Nigara is a renowned figure in the interior design industry, known for her highly acclaimed podcast "A Well-Designed Business," where she shares invaluable advice, interviews industry leaders, and offers actionable strategies to help interior designers thrive in their businesses.
Schedule:
8:30-9:30am - Breakfast hosted by Porcelanosa (included in ticket price)
9:30am - Morning Sessions Begin
12:30-1:30pm - Lunch hosted by Middleby Residential (included in ticket price)
1:30pm - Afternoon Sessions Begin
4:25pm - Keynote Begins
5:30pm - Close of Session
Don't miss this opportunity to accelerate your career or business in the world of interior design. Join us for "The Designer's Roadmap" and embark on a journey that will redefine your approach to business and open doors to limitless possibilities. Choose your path, embrace the adventure, and be inspired to create a future that surpasses your wildest dreams.
Secure your spot today and fasten your seatbelt for an unforgettable day of learning, growth, and inspiration at the "ASID Business Bootcamp: The Designer's Roadmap"!
Business Bootcamp Sponsorship Deck