Industry Partner Spotlight: Tres Joli Designs is making a great impact in the community during this difficult time.
A look at the design community and their willingness to make an impact
I have always been in awe at the design community and how they effortlessly transform people's homes and businesses into a sanctuary while maintaining function and sustainability.
As an Industry Partner and small women owned business owner, I am proud to collaborate with the interior design community daily. Tres Joli Designs has been serving interior designers by providing custom window treatments and soft goods for over thirty years. We focus our efforts on the great city of Chicago, the North Shore and surrounding suburbs. Our motto has always been to serve. Never did I imagine, how this motto would take on a totally different meaning this year.
For the past few weeks, I have been anxious. I have been worried about family, employees, clients, and friends for their health and financial well-being. I knew work hours would be affected by the shelter in place, and I wanted to make sure I was doing everything possible to keep everyone taken care of at this time.
This pandemic has caused so much pain to so many, I knew since installations would be halted during this time, we had to focus on our strengths and what we could do for the community. Confident in our clientele and work in house, we knew would come out strong and adjust to the new normal, but our whole team felt unsettled as we watched others struggle.
So, I asked staff members if they would be willing to sew face masks on a voluntary basis for organizations that needed them. In true "Tres Joli" fashion, the team stepped up and started sewing masks immediately.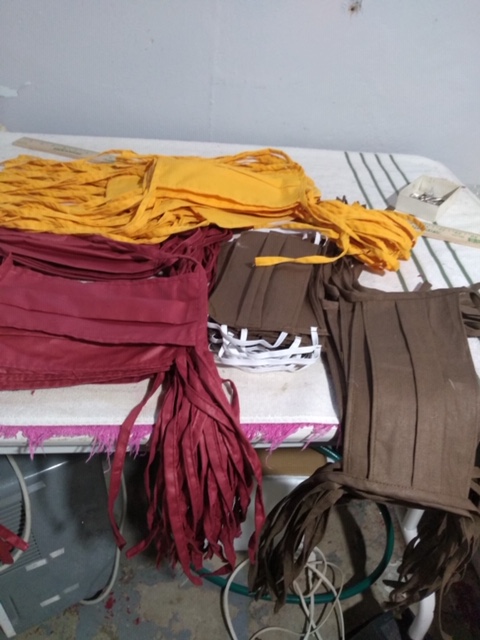 Our first batch of masks went to members of Franciscan Healthcare, Northwestern Medicine in Lake Forest and Home Health Care nurses who cater to Pediatric Cancer patients. Our next grouping will be going to Northwest Community Hospital and the UIC Cancer Patient Center.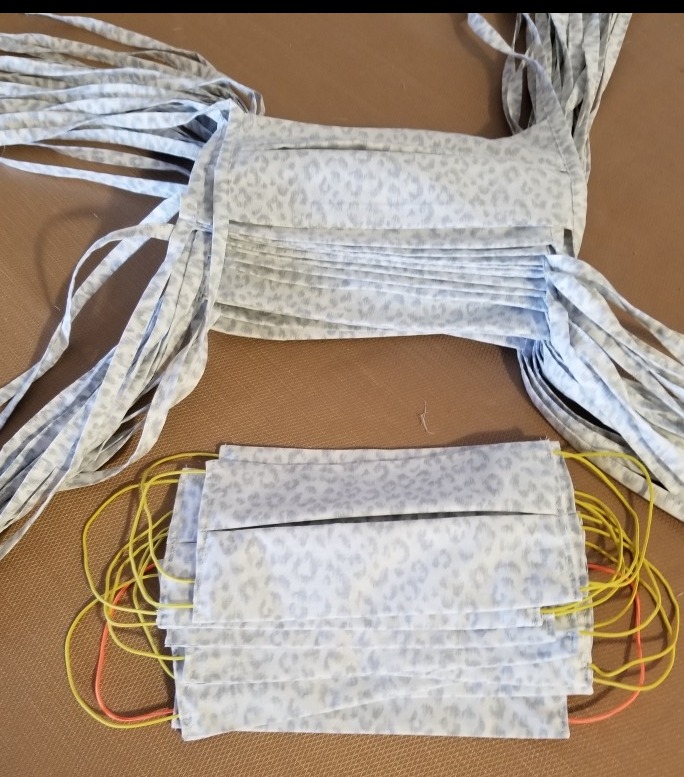 We had no patterns, limited materials, and no method of production. Tres Joli donated all the fabric, but the girls used their own thread, machines, and ties while staying safe at home. One of our workroom supervisors searched the internet and then created her own pattern for everyone to follow. She then tested multiple methods to increase the speed of operation. She has revised the process several times to increase productivity. Her thirty plus years of experience, aided everyone's efforts. The challenging part of it all, elastic has been sold out everywhere, so we had to be creative. We used multiple different materials to create ties for the masks.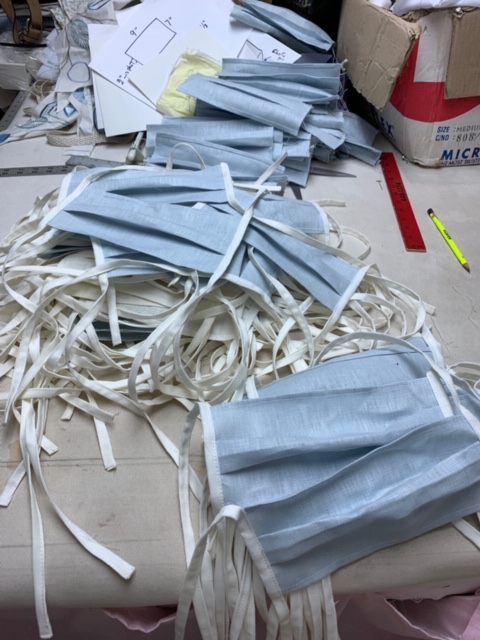 When on the phone with one of my team members yesterday, they said they are volunteering their time in excess of 12 hours a day just to try and help lessen the spread. Their selfless, commitment is unbelievable.
Over the past few weeks, many members of the interior design community have offered donations and fabric remnants to support this cause. We are overwhelmed by their support and quite frankly humbled by their generosity. More importantly, they have offered words of appreciation and encouragement which gives us the motivation to keep moving forward. We could certainly not do this effort alone.
We see now that a lot of organizations are doing the same thing and we feel amazing to be part of this effort.
We are hoping everyone who has stayed home during this pandemic will see the need for new window treatments and fresh design start so that we all can prosper. Remember, anyone can make a difference. Stay strong and safe.
Michelle Billows, Principal Tres Joli Designs
Instagram: #tresjolidesigns
Website: www.tresjolidesigns.com
Facebook: @tresjolidesigns