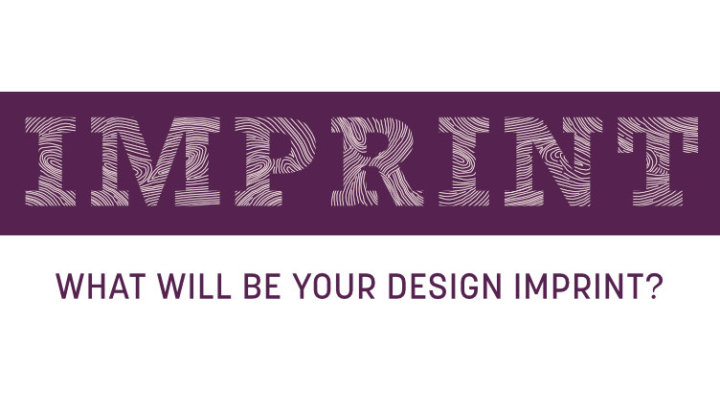 IMPRINT : What will be your Design Imprint?
Description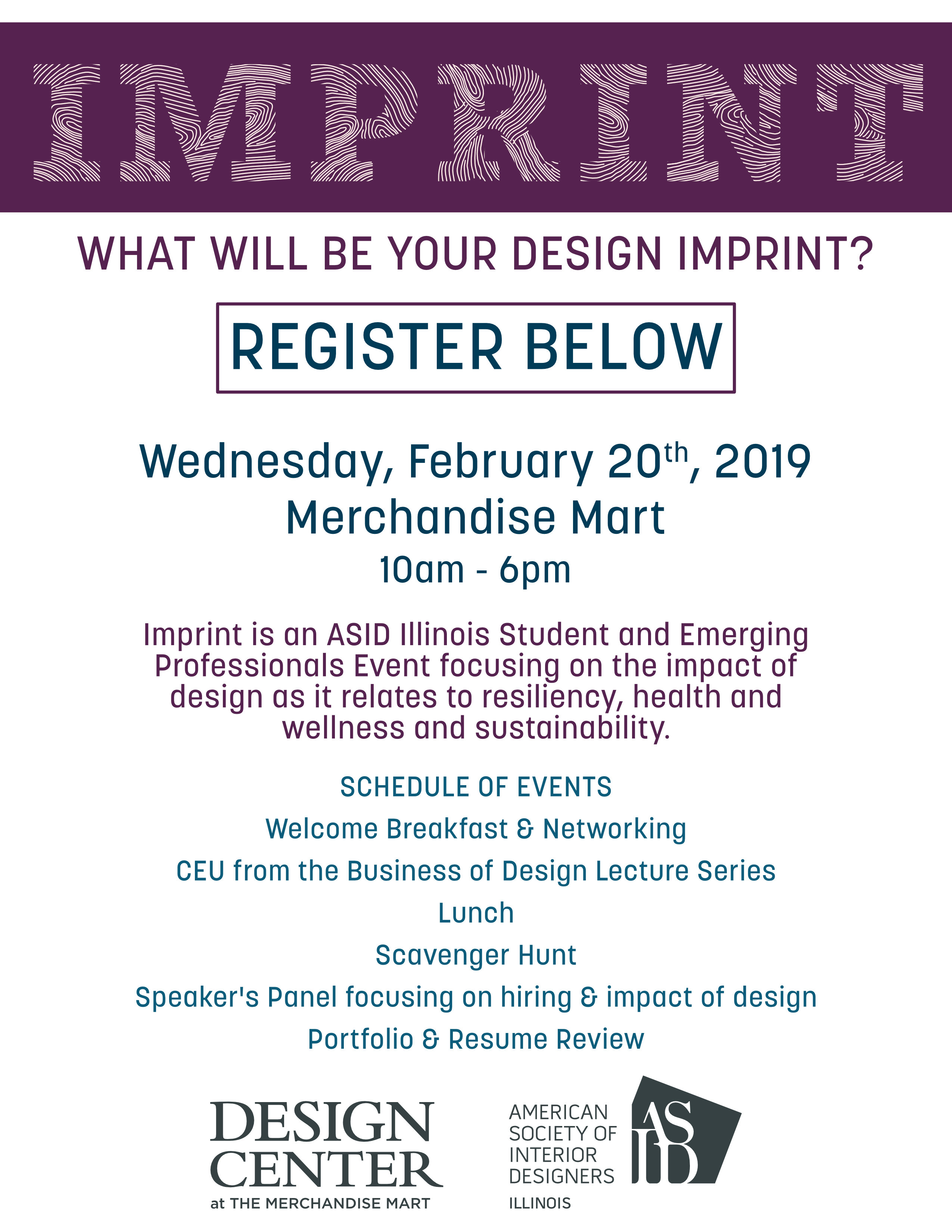 All Students and Emerging Professionals are welcome, whether or not you are an ASID member, to partake in this daylong design event!
Schedule of Events:
10:00 – 10:30am 6th Floor Conference Center: Welcome and Breakfast
10:30 – 11:30am 6th Floor Conference Center: Networking Icebreaker and Connecting on Social Media
11:30am – 12:30pm 6th Floor Conference Center: CEU from Business of Design Series
Business of Design: Best Practices for Brand Building with Corey Damen Jenkins. Learn the pitfalls and best practices to enter the world of product design and licensing. Earn a complimentary .1 CEU Credit.
12:30 – 1:30pm CAI Showroom #1495: Lunch
1:30 – 2:30pm Multiple Showrooms on 6th and 14th Floors: Scavenger Hunt
The hunt will focus on finding items that relate to how design can impact resiliency, health, wellness, and sustainability, while still being appropriate to the design intent and budget.
2:30 – 3:30pm Holly Hunt Showroom #1428: Speakers Panel
Designers from different specialties will discuss how their designs impact lives. They will also cover the range and depth interior design has on the human experience while showcasing different career paths for interior designers. There will also be an open question and answer session which students can ask the professionals anything from how to get hired to employment expectations. See the bios of each speaker below!
3:30 – 4:30pm 6th Floor Conference Center: Portfolio and Resume Review
A diverse group of professionals will be reviewing student and emerging professional portfolios and resumes. Each person will spend a set amount of time with each reviewer and then rotate- speed dating style. Don't have a resume or portfolio- no worries! Use this opportunity to ask questions and get feedback from the pros. Remember, portfolio and resume reviews can take place at any point in your career and are a good tool for reflecting on your work. Feedback is the key to creative growth!
Speakers Panel
Ginny Blasco, ASID, NCIDQ
Owner, Ginny Blasco Design Studio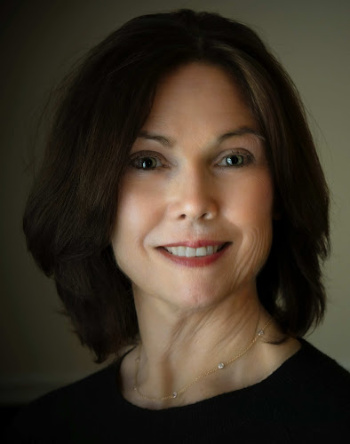 Ginny Blasco Design Studio provides their clients with an interior design project experience focusing on balance, creativity, and a client driven process. The result reveals itself in detailed and welcoming interiors. The project process takes the client through the design plan to reveal the goals and dreams of their residence and coordinates the project team to completion. The firm has received many regional and national awards and collaborate with talented contractors and architects to take the project to the highest level of finishing standards.
Donna Mondi, ASID, NCIDQ
Founder, Donna Mondi Interior Design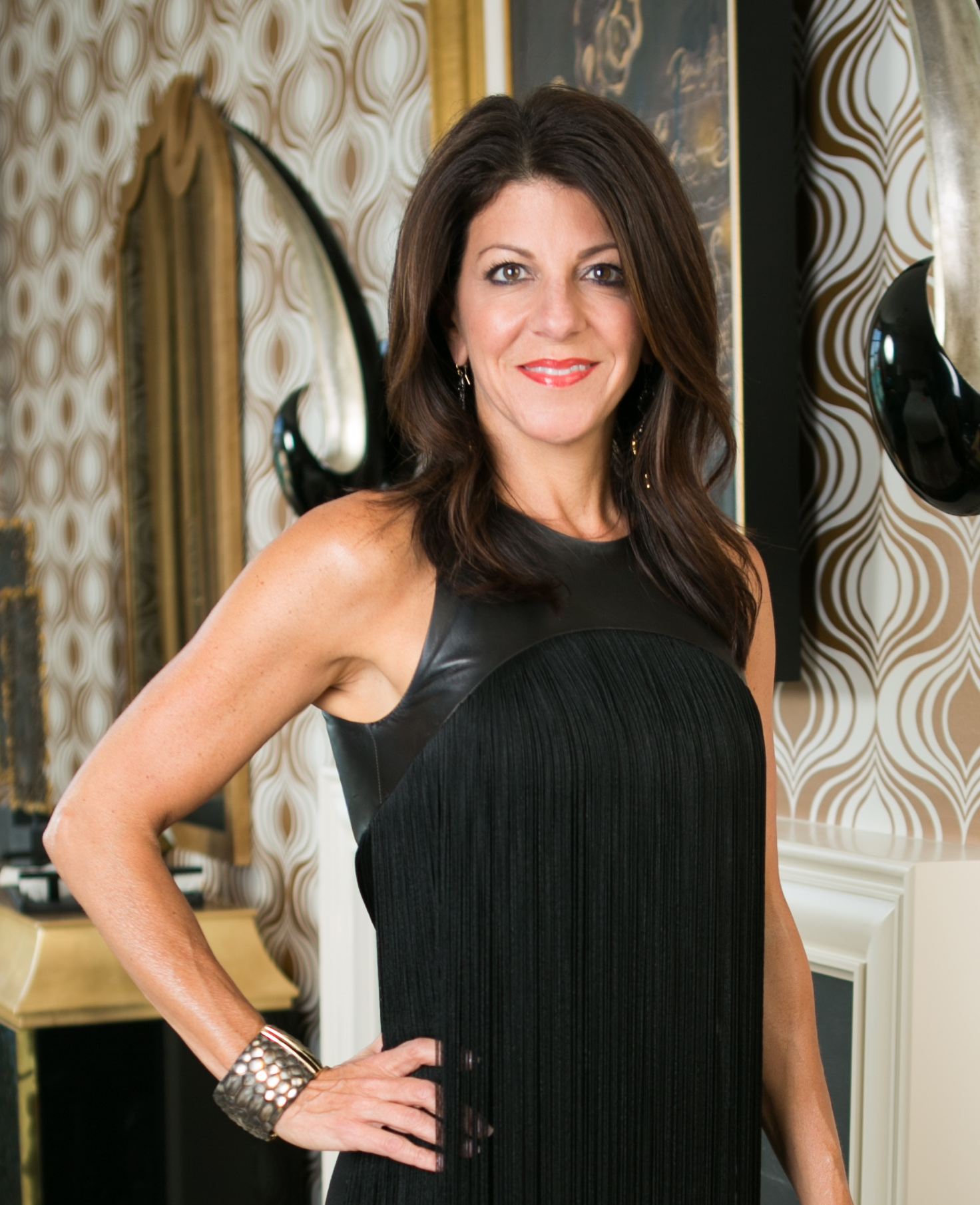 Considered to be one of Chicago's top interior designers, Donna's passion for design runs deep…often taking her to the corners of the world in her pursuit for resources and inspiration. Two decades of experience, a formal education in Interior Design, and a NCIDQ certification qualifies her to take on your most challenging projects. Donna's personal style has become known for her unique approach to blending European sophistication with modern edginess. With a dedication to bringing the latest trends to her clients but balancing them with historic or vintage elements to create the perfect fusion of old and new, classic and modern, intentional tension with unexpected balance and cohesiveness.
Sheryl Schulze, NCIDQ, RID
Principal, Landlord Services Leader, Gensler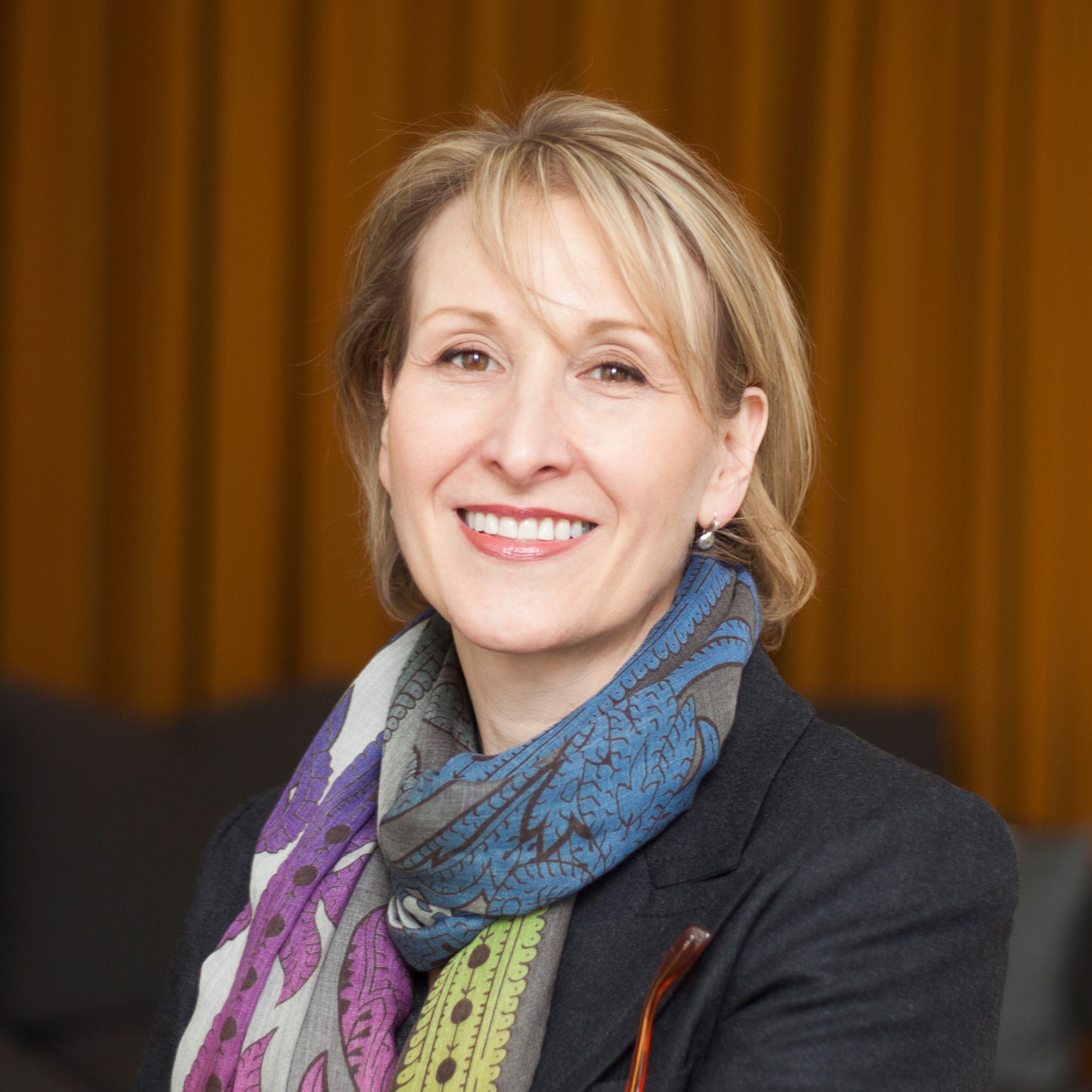 Sheryl leads Gensler's Landlord Services practice and brings more than 30 years' experience in strategic planning and design with particular expertise in repositioning, relocation, and renovation. She is a trusted advisor to her clients, providing the insight and guidance needed to assist in the management of real estate portfolios and value driven solutions. Working regionally and globally, Sheryl helps businesses develop strategies that address human capital, place, brand, and process. Sheryl is based in Gensler's Chicago office and earned a Bachelor of Arts from Harrington Institute of Interior Design. Her achievements include Harrington Alumni of the year 2016, United Way of Metro Chicago Co-Chair | Women United, and Chicago Building Congress Executive Board Member. Sheryl is a frequent speaker on repositioning.
Margi Kaminski, ASID, NCIDQ, CLGB
Principal, Co-Director of Health Interiors, CannonDesign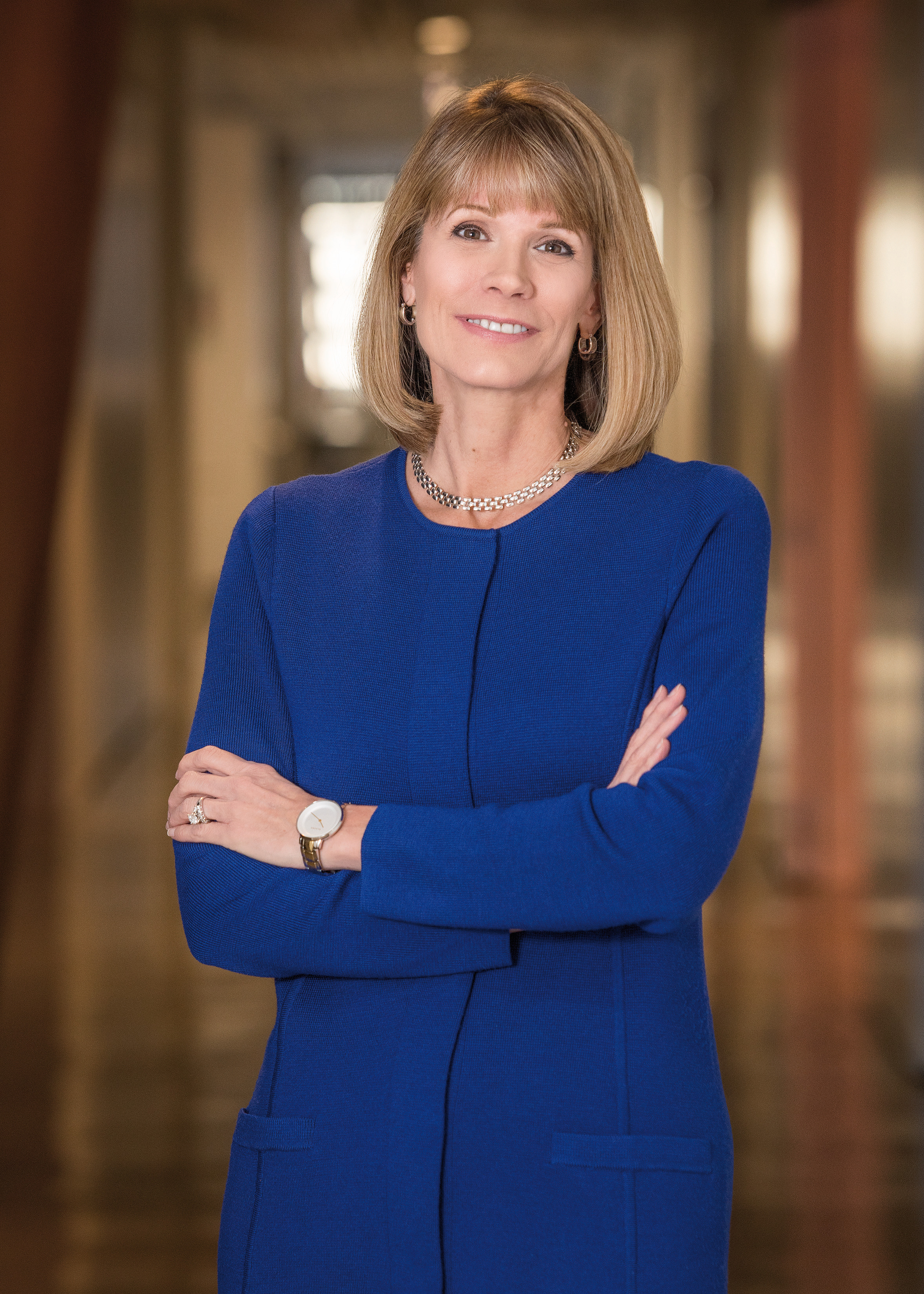 As co-director of CannonDesign's Healthcare Interiors Practice, Margi supports market initiatives and strategy, focusing on business growth and client engagement. With over 30 years' experience in practice, Margi has lead a wide range of notable projects for many of the healthcare industry's leading systems. Her expertise also includes working alongside practitioners during her tenure at Northwestern West Region — giving her a unique, practical perspective from the provider side of healthcare. She also understands the business side of design from managing her own firm for 15 years. Margi's work is characterized by a strong aesthetic sensibility tempered by a deep understanding of operational and functional concerns. She is a frequent speaker at leading healthcare industry conferences and has been the recipient of design awards from ASID and Contract Magazine.