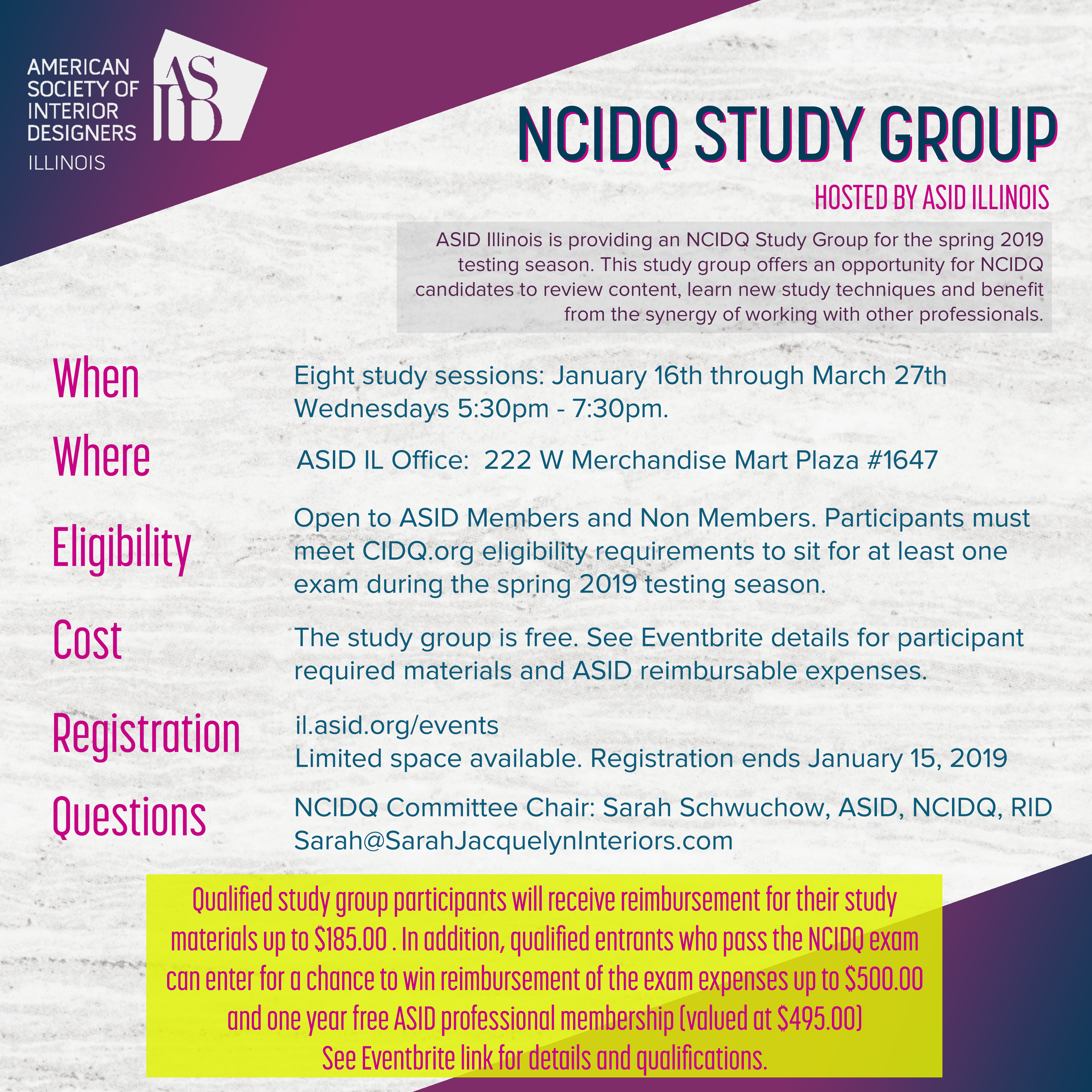 The purpose of this study group is to prepare qualified candidates during the Spring 2019 study season.
Proposed session dates:
Wednesday January 16: Startup meeting, Scheduling, Questions and Instructions
January 16, 26, 30, Feb 6,13,27 and March 13, 27
NCIDQ Exams April 1st - April 30th
Each session will be 5:30-7:30 pm at the ASID Illinois Chapter office in the Merchandise Mart
Content aligned with Qpractice Study Schedule
Participants must be eligible to register for at least one exam (IDFX, IDPX, or PRAC 2.0) during the testing season. The Committee Chair Sarah Schuchow will communicate with the candidates directly, via email after they have enrolled in the study sessions. Email Sarah Schuchow: sarah@sarahjacquelyninteriors.com
Required Materials:
1. Interior Design Reference Manual: Everything You Need to Know to Pass the NCIDQ Exam, 6th Edition. IBSN-13: 978-1501264279 Amazon
2. QPractice Membership $99.00- $149.00/Month, ASID members can use the code ASID18x2x to save 30% on QPractice Premium Access plans." (www.asid.org/learn/ncidq-resources)
Incentive:
Qualified study group participants will receive reimbursement for their study materials up to $185. In addition, anyone who passes the NCIDQ can enter their exam expenses for a chance to win a reimbursement up to $500*.
*The drawing for exam reimbursement to be held on Thursday, September 19, 2019 at Celebration of Design. Anyone who passed the NCIDQ Exams in Fall 2018 or Spring 2019 can enter. Entrants must submit their NCIDQ Exam Certificate to ASID Illinois by August 1, 2019. Must be present to win.
Please note: reimbursement is for individuals who paid out-of-pocket for exam fees and not for those whose company pays or reimburses.
*How do I qualify for reimbursement of study materials? Each participant that attends 7/8 study sessions and provides proof of purchase of the Interior Design Reference Manual will receive reimbursement of their text book by ASID Illinois up to $185.00.